Discount cards for regular guests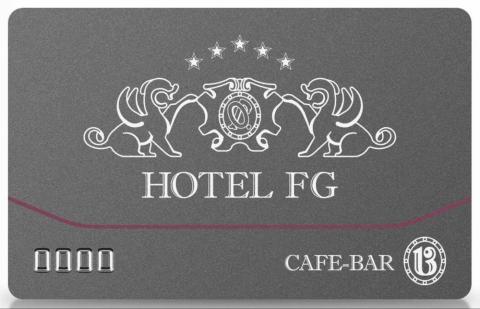 We are very pleased with our guests! We are especially pleased with those guests who come to our hotel frequently.
Just for you, our regular customers, we introduce a system of discounts on personal cards.
Our cards have different denominations of discounts and are divided as follows:
When you come to us for the second time, booking a room of any category through contact information, we give you a card that provides a discount on hotel accommodation and the use of cafe-bar "13" in the amount of 10%. At your 15 check-in or 15 days of uninterrupted stay, we will increase the discount up to 15%.

Terms and Conditions:
- The card can be issued to the guest only from the second arrival at the Hotel FG;
- Issued free of charge, when filling in the form;
- Discount on card does not apply to additional services and valid discounts;
- Discount card is personal and cannot be lent to third parties;
- The discount is valid only for the cardholder, or for guests staying with him;
- The terms and conditions of this card do not apply to corporate customers. If you lose your card, you can apply for its restoration, but if you have personal information in the database;
- We will not "lose" any of your visits, remind us of your 15 check-in or 15 days of continuous stay and we will increase the discount.
The Hotel FG Discount Card allows you to use premium services with significant discounts and privileges.